October 19, 2023
Sex & Relationship Q&A: Cheating, Trust & Sexual Pressure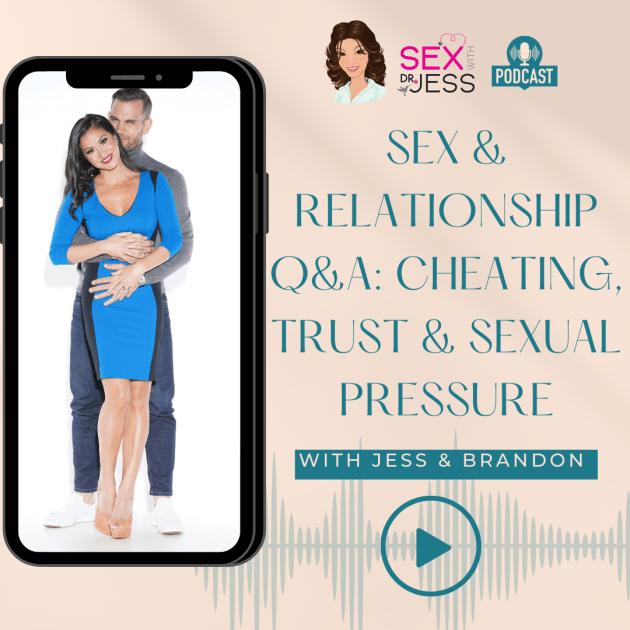 Podcast: Play in new window | Download
How do you define cheating?
And how do you recover once trust has been broken?
How do you deal with sexual pressure from a partner?
Jess and Brandon weigh in on personal questions from listeners. They also share an offer from Womanizer in honour of Breast Cancer Awareness Month: if you're a survivor, request your Womanizer Premium Eco by emailing info at sexwithdrjess dot com.
If you have podcast questions, please submit them here. Don't forget to subscribe to the podcast on Apple Podcasts, Spotify, Podbean, Google Podcasts, Amazon Music & Stitcher!
Rough Transcript:

This is a computer-generated rough transcript, so please excuse any typos. This podcast is an informational conversation and is not a substitute for medical, health, or other professional advice, diagnosis, or treatment. Always seek the services of an appropriate professional should you have individual questions or concerns.
Sex & Relationship Q&A: Cheating, Trust & Sexual Pressure
Episode 338
[00:00:00] Jess O'Reilly: You're listening to the sex with Dr. Jess podcast, sex and relationship advice you can use tonight. Hey, hey, we're back at it after a week off. Are you, are you feeling rested?
[00:00:19] Brandon Ware: I feel refreshed.
[00:00:20] Jess O'Reilly: You do?
[00:00:21] Brandon Ware: Not at all.
[00:00:22] Jess O'Reilly: In 400 or so episodes, or maybe we're not quite at 400. I think we've only missed two weeks.
[00:00:27] Brandon Ware: About three 50. And that's impressive that you've only missed. Two weeks.
[00:00:30] Jess O'Reilly: Is it? For me it is. For another person who's not as, uh, commitment phobic. Not that impressive, but apologies for missing last week. Not gonna get into it, but happy to, happy to be back chatting with you today, babe. Yeah, always happy to be here.
[00:00:43] Jess O'Reilly: We've got some questions from some listeners that, uh, I'm always kind of intrigued by and intrigued to hear what you have to say and what others think. So we do have a bit of an alternative sponsor for Breast Cancer Awareness Month as well. Uh, because cancer diagnosis and treatment have repeatedly been shown to adversely affect sexual function.
[00:01:03] Jess O'Reilly: We know that, for example, 83% of breast cancer survivors meet the clinical criteria for sexual dysfunction. We know that a very small percentage actually receive supports in this area. So our sponsored womanizer has. partnered with charity, the leading research hospital in Berlin for a breast cancer clinical study on sexuality and libido for breast cancer survivors.
[00:01:25] Jess O'Reilly: And they already have some preliminary data in this study showing that masturbating helps with libido loss and sexual self worth in breast cancer survivors who have undergone treatment. So I am looking forward to seeing some of those. Some of those formal results once published, and Erica Hart, who is a fellow sex educator, they're an activist, a breast cancer survivor themself, they advocate for an active pleasure approach to breast cancer survivors treatment.
[00:01:51] Jess O'Reilly: They are also on board as part of the project. And the reason we're bringing this up is that Womanizer, you know I'm a fan of this brand, a huge fan of their [00:02:00] technology, Womanizer is giving away. a whole lot of premium ecos. So those are their premium version of womanizers, but they're recyclable. So they're made from recyclable material.
[00:02:12] Jess O'Reilly: The product itself is recyclable. It uses less packaging, all that jazz. And so if you are a survivor and you're interested in a free womanizer premium eco, just let me know. So shoot an email over to our admin over here at sexwithdrjess, it's info at sexwithdrjess. com. Just let us know you'd like one and you need to send your name and shipping address and we'll have it shipped out to you.
[00:02:37] Jess O'Reilly: So if you're a breast cancer survivor or maybe you know someone who is who deserves a little more pleasure in their life, courtesy of Womanizer, do shoot us a message and you can find more info on it online as well at womanizer. com slash. It's breast cancer study and I think there's a little dash between each of those words.
[00:02:55] Jess O'Reilly: Probably much easier to just email me info at sexwithdrjess. com and we'd love to have Womanizer ship that out to you and they have some other programming going on this month as well. With certain purchases you receive a free boob necklace, um, in support of breast cancer survivors. Pleasure. All right, so we look forward to hearing from you and now.
[00:03:16] Jess O'Reilly: We move on to these questions, and man, we receive so many questions, and honestly, I know I feel badly I can't answer all of them, but, uh, these ones I'm looking forward to digging into, so let's get straight to the first one. First question. What do I say to my husband who insists that sex is my marital duty and that men need to get off regularly?
[00:03:36] Jess O'Reilly: He says it's normal that if I don't do it for him, he's gonna get it somewhere else because he needs to get off. We have pretty regular sex, but for the past few weeks, life has been a mess, so it's been a slow patch. We have two younger ones under two, and I had a C section on the last one, and I was a little bit slow to recover.
[00:03:56] Brandon Ware: Wow, I have a lot of things to share.
[00:03:58] Jess O'Reilly: Fine, go ahead.
[00:03:59] Brandon Ware: Sounds… [00:04:00] Okay, candid, Brandon? Sounds like a dick. Um, doesn't really sound that fair, if I had to be honest. If you're looking to get off, you can use your hand. You can use a toy. You can rub up against a furry wall. You can rub up against a pair of silk boxers.
[00:04:16] Brandon Ware: If you're young. enough. But I think this entitlement, this idea that you absolutely, this is your duty to me, without a conversation, sounds… Unjust yeah, I think you know, the first thing I'm looking for is let's have a dialogue. Let's open this up Let's see where this goes
[00:04:34] Jess O'Reilly: man. It's only been a few weeks.
[00:04:36] Brandon Ware: Is that I missed that part, too It's only been a few weeks. So, you know, I'm not saying that we're all not looking to Enjoy sex and to get off but I think after a few weeks And this, this requirement that you have to do this for me, I'm like, man, there's just a lot to unpack here.
[00:04:54] Jess O'Reilly: Requirement with a threat, too.
[00:04:55] Jess O'Reilly: You know, so, you know, I don't believe monogamy is the end all be all. But I do think respect is sort of an end all be all. And the way you're describing these things, it really doesn't sound like he's showing much respect. You know, I definitely don't see sex as a marital duty. I see sex as a shared experience, right?
[00:05:14] Jess O'Reilly: All parties opt into for pleasure, for connection, or any other benefits that you might associate with sex. It's not something you want to do to stop him from doing it with someone else. That feels like a lot of weight to carry around. And I know people are gonna, you know, kind of say, Well, What about the fact that you make a commitment when you opt into a monogamous relationship or marriage?
[00:05:36] Jess O'Reilly: And I'm not saying that you don't want to prioritize and, you know, work to ensure that both of your sexual desires are attended to in some way, but not out of duty and not under duress and not when he's threatening you. So my first thought always is, okay, so if he's acting this way with regard to sex, I'm really curious if he makes similar demands or threats.
[00:05:58] Jess O'Reilly: in other realms of the [00:06:00] relationship, beyond sex. Like what else does he see as your duty? What does he see as his duty? And can we unpack where those ideas come from and be flexible in, you know, our expectations? And again, it's been a few weeks. I mean, you have two under two. So I hope that you're able to call him out if it's safe to do so.
[00:06:21] Jess O'Reilly: Maybe you can let him know that you do want to have sex, but you want to do it because it feels good. Emotionally, physically, relationally, spiritually, and more. However, you know, again, whatever you associate with the benefits of sex, you want to, you want to do it, but not because he's threatening you. And I think I'd want to ask, you know, why do you see it as a duty?
[00:06:39] Jess O'Reilly: And maybe better understand what sex means to him, right? Is it just getting off? Is it something you share? with someone you care about or someone you connect with or, you know, I'm curious, does he see getting off with someone else since he brought that up as part of how he wants the relationship structured or is that just an empty threat?
[00:06:56] Jess O'Reilly: And I'd love for these conversations, I really think, to be supported by a counselor or therapist because I think they're heavy ones and one sided to me.
[00:07:06] Jess O'Reilly: Huge, you know, I always say there's no universal red flags but this feels like a really serious red flag to me. And, if you can't see a counselor or therapist, is there someone else you can talk to, you know, a friend, a cousin, a sibling, someone who maybe has a bit more insight into your relationship than I do?
[00:07:22] Jess O'Reilly: And I know I've said before that, philosophically, I don't see why we'd want to hold our partners back from pleasure, but To me, that applies to loving, respectful, ethical partners, and someone who threatens you, and makes demands like this, to me, doesn't qualify.
[00:07:35] Brandon Ware: I always think about role reversal, and I'm not saying that that's the best case scenario to try and understand the problem, but what if the roles were reversed?
[00:07:42] Brandon Ware: How would they feel, or how would he feel, in this particular instance? What if all of a sudden he decided he didn't want to have sex at all? What if that was the scenario, right? What would he expect of you? What would he expect of you? Right. So I think, you know, my knee jerk response is, he sounds like a dick.
[00:07:55] Brandon Ware: And I'm still standing behind that because I don't have more context to what's going on other [00:08:00] than this description. But from what has been said, I stand, I, I do feel confident with what I've said. And I also think that Brandon's got the dick stamp? I've got the dick stamp. I'm like, boom, I'm gonna smack it right in your forehead.
[00:08:10] Jess O'Reilly: Okay. Listen, we don't, we don't have the answers, we don't have the full picture, but I hope you have the supports to, to know that you shouldn't be treated this way, and that I hope you have the tools and the capacity to, to stand up a little, or get, you know, get, rally the supportive people around you, not to go after him, but to better understand your own perspective, because the fact that, you know, he's framed it this way to you, and you're asking me, and it's not like you just asked me this week, this is a little bit old, so you've been probably going through this for some time, maybe your judgment has been Thank you.
[00:08:39] Jess O'Reilly: bit clouded to where you're starting to believe some of the things he says, and that's something that happens in relationships when people are abusive and unethical.
[00:08:47] Brandon Ware: And there could be other things happening behind the scenes that we just don't know about, right?
[00:08:50] Jess O'Reilly: And this was, I received this, uh, I think a couple of months ago, you said that it's been going on for a couple of weeks and I just hope you're in a safe place because you don't need to be under duress and threat.
[00:09:00] Brandon Ware: Agreed.
[00:09:01] Jess O'Reilly: Uh, you know, you brought up role reversal, and I think that really applies to this next question. And this one pertains to what qualifies as cheating. And I, oh, I receive so many questions that are along the lines of, you know, Am I being reasonable? Is my partner being reasonable? And you know, of course, it's up to you to determine boundaries.
[00:09:16] Jess O'Reilly: But this is an interesting one. She writes in, I caught my husband in the back room of a strip club getting a private. Dance. His belt was undone. I saw a bunch of big charges on the credit card statement, so I walked right in there, because we had already talked about the fact that strip clubs are fine, but no touching.
[00:09:34] Jess O'Reilly: He says it's not cheating, and that he never touches the dancers. He says he keeps his hands to himself, so he's following our rules, even though they're… Touching him. I say it is cheating because even if he's not using his hands, there's lots of body contact involved. He says I'm being a prude. Am I overreacting?
[00:09:51] Jess O'Reilly: And how do we even move forward? Okay. So I think you're probably going to want support with talking this one through as well, because my view is [00:10:00] that you're not overreacting because it sounds to me like you agreed on a relationship rule or boundary and he's trying to ride it out in the grey area. I'd be surprised to believe that he even believes what he's saying.
[00:10:10] Brandon Ware: Yeah, I'd be surprised as well. I love this. It's a loophole. I'm not doing anything wrong. It's totally cool. My penis is just out of my pants and someone's rubbing it.
[00:10:17] Jess O'Reilly: I'm sitting on my hands. I think he's playing semantics, right? I didn't touch with my hands. Well, you touch with all sorts of body parts, so that's touching.
[00:10:24] Jess O'Reilly: And like you said, babe, this one, I'm really curious how he'd feel if roles were reversed. So, no, I don't think you're overreacting. I think when a relationship boundary or rule or whatever you want to call it is violated, Whether the spirit of the rule is violated or it's literally violated, I think it's reasonable to say that you're not comfortable with this.
[00:10:46] Jess O'Reilly: That doesn't mean he has to do what you want though.
[00:10:47] Brandon Ware: Agreed.
[00:10:48] Jess O'Reilly: So how you move forward is really up to the two of you. I think it's probably fair to say that trust has been violated and that takes work. to rebuild and that is a shared job and we've spoken about cheating and how to get it over cheating and whether a cheater will cheat again in the past and I don't care if we label it cheating or some sort of violation whatever language works for you but my focus would be how do we a rebuild trust and how do we Build this relationship in a way that works for both of us because, you know, there might be a really clear path where you can repair trust because he shows accountability and you both commit to agreeing to relationship parameters together.
[00:11:27] Jess O'Reilly: So maybe that includes strip clubs or maybe it doesn't, but what's important is that you're both happy with the arrangement and. That can take some real work to find that common ground. I think it takes effort and more than a few conversations to get you both on the same page. And I will say, we have a lot of tools on this podcast, in previous episodes, to help you navigate some of these conversations.
[00:11:49] Jess O'Reilly: To help you better understand one another's sexual values. Not just what you want, but why you want it. And all the attachments related to your histories, related to your [00:12:00] identities, related to personal values. that dictate how you define sex, how you define monogamy, how you define ethical non monogamy. So if you go back to some of the conversations on sexual values and relational values, I think that can be helpful.
[00:12:13] Jess O'Reilly: And again, if you can work with a professional whose approach aligns with yours, that's ideal. However, I think it's also important to recognize that some people can't find common ground. Some people realize that, you know, they aren't in a space where they can rebuild trust or they can't agree on what they want, and even in the absence of rebuilding trust and finding common ground, so many folks stay together.
[00:12:35] Jess O'Reilly: Nonetheless, right? Many people stay together in a new type of relationship. I know folks in your situation who stay together, but they stop having sex with each other, especially when I'm thinking of multiple cases right now. They find out their partners are having sex with other people, and I can't tell you how many couples stay in these situations because they want to stay together as a family, or because they work together, or to avoid disruption or social stigma.
[00:12:59] Jess O'Reilly: And some of them find a new reality. Where they can't really agree sexually but they still kind of like each other or they really like each other. Some of them have a lot of fun together, they enjoy one another's company. Some don't. Like some stay together and they don't like each other and they're full of resentment.
[00:13:16] Jess O'Reilly: And I think the reason I'm going off here is that there is every permutation of relationship out there. Obviously, you know, I see relationships as the key to fulfillment in life. And health and wealth and every possible piece of happiness. So I wish people were in happy relationships. I'd love to see people in safe, happy, fulfilling relationships.
[00:13:38] Jess O'Reilly: So to go back to it, if you can figure out what that means for you. Maybe be a bit flexible, but also focus on what are your own needs and values, and you can build from there. So I'm not trying to be opaque. Maybe you find a way to realize that, you know what, yeah, he wants to go to strip clubs, and I'm going to find a way to reconcile that, so it feels okay for me.[00:14:00]
[00:14:00] Jess O'Reilly: Maybe you don't. Maybe he keeps doing it, and it feels awful for you, and then you have to decide, do I really want to stay in this relationship? You know, and let's be honest, some people in this situation break up. They realize. That they're simply not aligned. And I'm not suggesting that, you know, a trip to a strip club is the sole reason that people split up.
[00:14:16] Jess O'Reilly: But if your values don't align, if you can't trust one another, if you end up constantly fighting about issues like this one, of course it leads to deterioration of trust and connection and attraction and care and kindness and safety and all the other beautiful things we seek. And
[00:14:38] Brandon Ware: I think it's interesting that we start relationships with copious amounts of conversation.
[00:14:44] Brandon Ware: When we start dating someone or seeing someone, you're out, you're not just having sex, you're not doing chores, you're not taking care of the kids, you're doing. I get it, fun things, but you're out having these conversations, talking about what you want in the future, what you want today, what you're okay with, with your potential partner.
[00:15:02] Brandon Ware: But then once you get into these relationships, we hear all of these stories about people who have stopped communicating or used the communication that they had 10, 5, 10, 20 years ago as the parameters. For current activities or, or whatever it is that they're doing, but it's like, these need to be updated.
[00:15:19] Brandon Ware: You need to be having constant conversations to understand what are you comfortable with today? Because what I was comfortable with five years ago, I'm, may not be comfortable with today.
[00:15:28] Jess O'Reilly: Well, it's interesting because this person seems to be clear about what they're comfortable with. Because they had this agreement that you don't touch at a strip club.
[00:15:34] Jess O'Reilly: Right. But they're also asking me if they're overreacting, which suggests to me that they're curious about hopefully not what I think, because what I think doesn't really matter. I'm curious about whether or not maybe they are flexible on some of these things, but being flexible on your partner, going to a strip club and getting touched by other people or touching other people is totally different than being flexible on having a partner who lies to you or who rides that gray area.
[00:15:59] Jess O'Reilly: In [00:16:00] honestly, what feels like a childish way to me, like if you guys had an agreement and they violated it, that's why I said the number one thing is you have to kind of repair, rebuild trust, and then you have to decide how do you want to build this relationship together? What's it going to look like? And rather than dictating what it ought to be from either's perspective or assuming that it ought to be one way because it's what most people do, I really think it is about digging into your sexual values, Your relational values and what really brings you joy and love and comfort and safety and excitement and passion and all the things you want from a relationship and that's actual effort.
[00:16:37] Jess O'Reilly: That's not just about finding the right partner because right now you don't have the right partner. Like, and I don't mean he's wrong. I mean, clearly you're not right for one another because what one of you wants is not what the other wants. One of you is clearly, I'm going to just use the word lying because that's what it is.
[00:16:52] Jess O'Reilly: And that doesn't mean that you can't. Figure out how to fit together. It's just at this moment in time according to this specific incident You're not the right fit
[00:17:00] Brandon Ware: sounds kind of childish to me if I had to be honest like this this idea Well, you know, this is what we agreed to so i'm not technically touching anyone.
[00:17:07] Brandon Ware: I'm like, come on, man your partner clearly is You know, comfortable enough with themselves to have these conversations, right? And you're the one that's saying, well, there's a loophole here. So
[00:17:17] Jess O'Reilly: I'm going to use their hands up in the air, rubbing their penis.
[00:17:19] Brandon Ware: Just going to take my penis out and see what happens, you know?
[00:17:22] Jess O'Reilly: So, no, I don't think you're overreacting. I definitely don't think you're being approved, but I think there are some very important conversations around trust and relationship agreements here. And it's not going to be a one time thing. You guys, as Brandon said, you might land on something today that works.
[00:17:36] Jess O'Reilly: And then in six months, you might have to reassess. Because you might think you're comfortable with something and then perhaps not be, or you might think you're uncomfortable with something and then learn that, you know what, maybe this is something I could open my mind up to as well. So wishing you luck with that.
[00:17:50] Jess O'Reilly: And thank you so much. Thank you to both of you for sending in your questions. Again, we are not the arbiters of truth. We don't have all the answers. We try and share our [00:18:00] perspective. And if anyone else wants to share their perspective, go ahead and record us a voice note in a nice quiet room. And we're happy to consider playing it on the podcast as well.
[00:18:09] Jess O'Reilly: Uh, reading out what you write isn't as, uh, I think effective, but if you feel like getting on that voice note, just with some headphones and recording in a quiet room, and you want to share your perspective or even experience with similar. situations please do. All right we're going to stop there with a quick reminder that Womanizer is giving away free premium egos while supplies last and our listeners are on a priority list if you want to shoot us an email at info at sexwithdrjess.
[00:18:37] Jess O'Reilly: com and I will look at the results of the study the collaboration between Womanizer and Charité in In Berlin, when we see more of the data to come out about sexual functioning and self pleasure post breast cancer diagnosis and treatment. Thanks for chatting, babe.
[00:18:53] Brandon Ware: Thank you.
[00:18:53] Jess O'Reilly: Thanks, folks. Have a great one.
[00:18:56] Jess O'Reilly: You're listening to the Sex with Dr. Jess podcast. Improve your sex life, improve your life.