December 2, 2021
Emotional Expression: How To Open Up
Podcast: Play in new window | Download
This week we discuss therapy and emotional expression with the mental health practitioner and author of Man, Just Express Yourself, James Harris. He shares advice for those who are resistant to therapy, as well as tips for opening up and getting your loved ones to do the same.
You can order your copy of "Man, Just Express Yourself" and the Cheesy Date Board Game. You can find James' book and board game on his website. And follow his Instagram and YouTube channels to stay up to date with James.
Holidays are coming up, and TSC's Intimately You has holiday prices going on. And you can get an additional 25% off with my code* DRJESS25 – Toys from Lelo, We-Vibe, Romp, and so much more.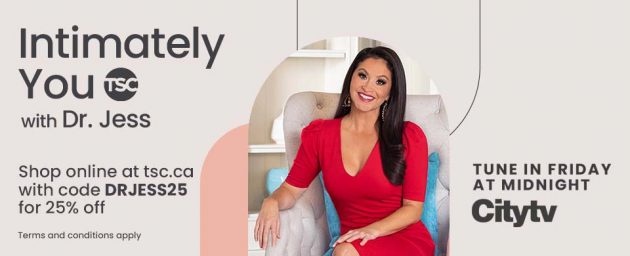 If you've got questions or topic suggestions for the podcast, submit them here. As well, you can now record your messages for us! Please record your message/question in a quiet room and use your phone's headphones with a built-in mic if possible.
And be sure to subscribe on Apple Podcasts, Spotify, Podbean, Google Podcasts, Amazon Music & Stitcher!
*Promo Code DRJESS25 is valid from September 29, 2021 at 10:00pm ET – December 18, 2021 at 11:59pm ET. Promo code may be redeemed on regular purchase price, This Visit Only Price, Event Price and Blockbuster Price before S&H charges and taxes on products as identified on Intimately You with Dr Jess (tsc.ca/intimatelyyou). Promo code cannot be redeemed on our TODAY'S SHOWSTOPPER™ offer, Encore TODAY'S SHOWSTOPPER™ offer or Exclusive For You TODAY'S SHOWSTOPPER™ Presale offer, or redeemed for cash, or used towards payment of the TSC Credit Card. Offer cannot be combined with any other offer or discount (including Rogers employee discounts). All "Last Chance Price Final Sale" and "Clearance Price Final Sale" purchases are final, no returns or exchanges. Offer subject to change without notice. To redeem your Promo Code when making a purchase online at tsc.ca, enter it into the PROMOTIONAL CODE area upon checkout. If shopping by phone call 1-888-2020-888 and quote the Promo Code to the Customer Care Representative. ©2021 Rogers Media.
Rough Transcript:
This is a computer-generated rough transcript, so please excuse any typos. This podcast is an informational conversation and is not a substitute for medical, health or other professional advice, diagnosis or treatment. Always seek the services of an appropriate professional should you have individual questions or concerns.
Emotional Expression: How To Open Up
Participant #1:
You're listening to the Sex With Dr. Jess podcast. Sex and Relationship advice you can use tonight. Welcome to the Sex With Dr. Jess podcast. I'm your co host, Brandon. We're here with my lovely other half, Dr. Jess. Hello. Hey, how are you doing? I'm good. How are you feeling today? I feel good. Is there something you want to add to that? Well, we're going to be talking about emotional expression and specifically men expressing themselves emotionally interesting. But all people. Yeah. I mean, I think talking about men expressing themselves is interesting because growing up, I didn't express myself very much. And even now, I don't know that I express myself the way that I should with other men in my life. Do you feel like you express yourself to me? I think I do. And then I have these moments where I think I should tell you what I'm feeling. And maybe I'm just feeling super emotional. I had a moment the other day when I was just wanting to come up and tell you how much I care about you and how much I love you and what you mean to me and how much you do for me. And you know what? I didn't do it. I'm telling you that I thought about it then. So you're listening now. But in the moment, I didn't think about that. Now I have so many opportunities to tell you that, whereas with because I'm always because you always. But with the friends, the men in my life, the male presence in my life. I'm not around them as much. And when I am often, I don't have really deep connections with them. So if I think or feel this way, I don't express it to them. When you think about the circle of people you really love, is it easy to identify who those people are? Yeah. It's easy. I'm finding as I get older, that circle is becoming smaller. Okay. Have you told them? No. Hold on. Have I told them that I care about them, that I love them? No. And when I do, it seems to be very quick with some of the people. It's just like, okay. Yeah. Love you. Okay. Talk to you soon or see you soon. Alright. And you always have been like that ever since we've been together. Like when we hang up the phone, you always say I love you. When you say goodbye. You always say you love me. I do. Yeah. But do you find there are people in your life who say it and you're curious as to what it really means? Yeah. I think that there are people in my life where it's just a formality. It's what needs to be said. And then are there people in your life you wish you set it to? Yeah, definitely. There are people. And I think I have to reflect on those relationships. And if I were to reflect on those relationships, I would realize that they are that important to me. But I think with certain friendships and relationships, it takes time and all of a sudden, one day, you're like, wow, you know what? I love you. I really care about you. And that evolves over time. And then at that point, it's almost awkward to say, out of the blue one day, hey, I love you, right? And especially for me, for some of the male friends in my life, all of a sudden, out of the blue, after you become friends with someone after six months or nine months or however long, one day over drinks or one day playing a sport. Hey, I love you. Or how else do you express yourself in a way that lets that person know, hey, man, I really care about you. And I need to just forget about all these other pressures that tell me I can't express myself this way, right? Because you really do matter to me. Yeah. I mean, you know, I struggle with that. I have no problem telling you how I feel. And then I find that almost with people who are I don't want to say strangers, but newer in my life, I can do it. I can be a little bit more honest. But there's, like, this middle ground of people I've had long relationships with where I'm not good at it. So we're going to be talking about that today. Awesome. We need some help with this. And James Harris is going to help us before James joins us. I want to shout out Tse CA. You know, Tse CA. That is where I host the show Intimately. U. It actually arrives on citiesV, but they have holiday pricing right now, so I'm going to say, run. Don't walk to Tse CA. Head over to Tse CA. Intimatelyu. My code is still good. It's not good for much longer. Doctor Jess, 25. 25% off all the toys, folks, all the toys. So the Lelos, the womanizers, the we vibes, the Romps, all of that jazz. I know that everybody's having kind of that cyber Monday week pricing, but I don't think you're going to get more than 25. I think this is the best discount that exists so that's for people who are in Canada, caintimately, you do check it out. All right. We are ready to talk. Emotional expression. Joining us now is James Harris, licensed mental health practitioner, founder of Men to Heal, author of Man Just Express Yourself and creator of Cheesy Dates board game. Thank you so much for being here. Oh, listen, I appreciate you for having me extending the invitation. I'm glad that we finally get to connect. Yes, we are overdue. I've been following your work really appreciating even the bite size stuff that you're putting out on Instagram. And for folks who don't know you, we want to learn more. So I'm wondering if you can tell us a bit about your journey to becoming a therapist. I know you're a father. You're a veteran. I read that you did two deployments in Iraq and Afghanistan. You have multiple business ventures. You're not just a sneaker collector, although that would be pretty cool, but your passionately is mental health. So tell us how and why you were drawn to this work.
Yeah, I guess the shorter story would be I was pretty much born into it. So when I was younger, I was in foster care group home. And at that point in the order of the state, therapy is mandatory, which means you got to go weekly. And for me, it wasn't a pleasant experience because cultural reasons, I guess you could say not just ethnicity, but age wise. I'm just young black kids from the project, and most of the therapists that time assigned to the state were older white men or older white women. So it was just an unrelatable process. So I didn't obtain as much as I could from therapy at that time. And oftentimes I felt like it probably was a check in the box that the facility had to do group home. They probably had to ensure that they're maintaining the numbers or getting certain funding based on having kids in therapy. Anyway, fast forward, I knew the benefits of therapy, and I knew it could help me. I just didn't have the right therapy. It was no cohesive bond. It wasn't a fun process at that time. So then when I joined the army, wind up doing eight years, two deployments like you said, one in Iraq and Afghanistan knew I was different, wanted to ensure that I was still able to take care of my family and not be as different as PTSD because I was a Gunner. So a lot of combat experience, a lot of grief and trauma associated with that. So of course, I was impacted and I was affected. So I tried therapy again, and this time, it was a similar experience. The therapist that the VA had, most of them didn't have combat experience, and they just was unrelatable as well. So I found myself again like, oh, man, I know therapy can help, but it's not registering that's part of the reason, too, why a lot of veterans tend to go to the group opposed to individual therapy, because the group setting, you got that cohesive experience. You got people with that shared lived experience. You guys can bounce things off each other, which is fortunate.
So for me, I'm just like, oh, man, this might be something that I have to take on just so I can service that urban community, that male population, that veteran population from experience and not just from the settings of what I learned in a book or a case study. This is actual life. So the empathy is different and the actual experience is different. So I was fortunate prior to that, after I masturbated myself at 16 and started living life, started doing what I had to do so I went to College, and then within that time frame, I joined the army so I wouldn't be homeless anymore. So it was just a life lesson, just a journey. Really? I'm curious. First of all, thank you for sharing. I can't imagine it's easy to go through therapy that you said it didn't work for you. But I'm curious. Did it do harm? I wouldn't say it did any harm. I would just say it didn't enhance it did add value. It didn't increase my lifestyle or my knowledge at that particular time. I didn't obtain from it what I think I could implement. I can't point to a time where I can say I've learned this in therapy, and it helped me with my clients. Now, whether they are couples or individuals, I can go back and read a text from them and say, hey, I tried what we did in therapy last week and it worked. Or I did this with my wife or my husband or, hey, listen, my son said I can pinpoint those things. I can't recall a time in therapy, whether it was in my adolescence or during the military time that I can say, you know what? My therapist suggested this and it worked or so for me, I wouldn't say it did harm. I just would say it didn't assist me. We talk about this all the time on the podcast, the fact that we need therapists from all walks of life, from all backgrounds, therapists of different races with different ethnic backgrounds and also with different experiences. So I think I've worked with I think such a broad population and I don't work with veterans. And I don't think I'd feel equipped to work with veterans, especially when you talk. I'm sure there's a difference between, as you said, you were a Gunner and you saw combat versus somebody, perhaps who was in the military, but in more of an administrative role, I'm sure those experiences are very different. So I'm so appreciative that you're doing the work you're doing. Yeah. And I'm glad that you recognize, too, that it wouldn't be beneficial for you to serve that population. And I think with me coming up, a lot of therapists weren't recognizing of that. Or, like I said, this was all right. Cool. I'll just check the box. They got to come. So I'll just put them through that. And I know for me, too. I would prefer to work with a certain population, and I'm drawn to a certain population and vice versa. So for me, I'm sure you probably heard all the time cultural competence, but I think it's definitely important to be from the actual culture, whether that's the age group or whether that's the ethnicity or whether that's the veteran status or ses status or just to make it relatable and cohesive, because it's a two way process. And I think people get that Hollywood notion thinking that the therapist is the only person that's supposed to do the work. No, you got to do the work. Even when you leave my office. It's things that you have to do. So I think building that rapport and having a cohesive bond, it works better because I can bond over my clients over sneakers because they see the uncle oriented or there's something that they want to aspire to or whatever, or just talking about that veteran. When he said, when I walk in the island, the grocery store, the smell of meats just get to me as if I'm still on the bat because it happened to me as well. I can be in your place. But I also can assist you with things that assisted me in getting through this journey. And let me just tell you what I did learn in the DSM. It's more than just one option. It's a well rounded, holistic growth experience. Yeah. And that experience.
You just can't compare it. You can't read a book and understand what it's like to be mixed race. You can't read a book and understand what it's like to be a veteran. I can't fathom what it's like to be a veteran. It's not something I ever considered. So when we think about therapy, you're describing to me like new therapy versus an older approach to therapy, like when you think about that older person who is supposed to guide you and give you the answers and this kind of elite notion that therapists have some knowledge, something special that the rest of us maybe don't when in fact, the answers are kind of inside all of us. And the therapist is there to guide you to facilitate, perhaps to challenge you a little. And I think that that's what the newer generation of therapists are seeing. And I'm not saying that older therapists haven't embraced it, but I think it may be more of a struggle, I can say, from training therapists from doing training with therapists, I run into resistance all the time where they're kind of like, Sweetie, I've been doing this 30 years, and I'm like, that's really cool. What we're talking about right now is racial bias, and that's going to be different. It doesn't matter. 30 years experience, we all have to unpack that. I'm curious if you think that therapy is for everyone, because sometimes I'm finding this that people find therapy, and it is life changing for them, especially people who are from cultures where maybe we don't openly and regularly embrace therapy. So someone in the family finds therapy. It changes their lives, and then they want everyone in the family to benefit from it, to go into therapy. But not everybody's willing. We might have aunties or grandmas or parents who just aren't there. So do you believe that therapy is for everyone? Do you believe there are other ways to access therapy other than kind of one on one with a therapist? So I do believe that there is a difference between therapy and things that are therapeutic. So I think everybody can benefit from doing things that are therapeutic, whether that's going to a physical office and talking with somebody in psychotherapy, or whether that's listening to music or writing in a Journal or doing math, meditation and stuff like that, because I think culturally it is different with people of different backgrounds, whether that's age or ethnicity, like the older generation. You said they'll much rather keep things internal within the house or within their family. And now this newer generation is more expressive. They're posted, or they definitely talk about seeking help and assistance and then also a lot of people don't benefit from a trusting relationship because of things that transpire within them. So it will be difficult for them to be convinced that a total stranger is unbiased and wouldn't break confidentiality because everybody think that I can tell you information, but it's a confidentiality piece. That intake session is definitely intense. When I'm telling you, hate everything that stays in this room is between us. I can't break it unless you tell me XYZ or harm those confidentiality rules and stuff. But convincing a total stranger of that with no insight of therapy is difficult. Like, no, if I tell you this, I might get my kids taken or you might tell my boss I might lose my job, so it might cause me a divorce or impact my relationships. A lot of people feel like, no, I'm not going. I'd much rather do different things. And sadly, though, those different things have come to not always positive, they become detriment in some areas, whether it's substance use, being promiscuous or being reckless. So if we can transform those things to positive outlet, I think it would definitely be benefiting for not only the person, the individual, but people vocabulary around them, the family, their friends, the co workers. So I wouldn't suggest you go into a physical office and see somebody if that's not what you want. But I would suggest you to do things that are therapeutic to enhance your lifestyle so you can be a better person for everybody else and yourself. Of course, but of course, it will be a lot of convincing cause me personally, I don't want to work with a client that's constantly resisting, and I tell wise this all the time when they say, Please help my husband. Listen, I can't help anybody who don't want help or anybody who don't take issue with the action. So until he's ready, I'll suggest that you do and give her a checklist. But I prefer to work with clients who are saying, hey, listen, this happened. I'm trying to change. What can I do? So those clients are more open to the process, and they are willing to see it through opposed to somebody who my partner made me come or I'm here because my parents, you know, those ones tend to be a challenge at the beginning. It's just too many layers you have to unpack. But if somebody's willing to do the work, I think it's a little bit more easier.
Absolutely. And you see that all the time in couples therapy, where the relationship is over and then they decide to go to therapy, I think oftentimes to say, Well, we even did therapy, but they've arrived at your door completely defeated. And it's not easy to call out because it's not always easy to immediately recognize. Right? One person still wanting, and the other one probably is done with the situation. Yeah, that's a really tough situation. And it reminds us that not every relationship has to last forever to be successful, right? The dissolution of a relationship can be part of its success. So speaking of therapeutic approaches, as opposed to therapy itself or psychotherapy, you have a tool. You have a book called Man. Just Express Yourself and in this book, yeah, I love it. And everybody needs to head on over to Amazon and order man. Just Express Yourself. By James Harris in this book, you break down language to help men specifically, but I think it's helpful to anyone help men open up emotionally. And so this is a tool that is therapeutic. It's a self help book. I think therapists also are using this as a tool. So can you help share some of the language that you delineate in the book? So let's say, for example, someone is struggling to say what they feel. Let's say they've been feeling really down. They've been feeling just kind of like, not like themselves. They probably aren't using the language of depression. Maybe they can't access that. And maybe they've never had any models of how to open up. What would you suggest? I know you have lots of resources in the book, but where could people begin? Like, I'm just not feeling right. I'm feeling just not myself. But I've never been able to tell anybody that before, right? Maybe I'm always the funny guy. Maybe I'm always the positive person. Where do we begin? So the ironic thing is, Man, just express Yourself to me. It's more than a title, but I put it that way because people often say, oh, man, men just don't open up or man wives or partners would be like, I wonder what he's thinking. Why wouldn't he just talk to me? Why wouldn't he tell me? And the wild thing is like men do express themselves again. It's just not in those healthy ways all the time. It's anger or resentment or reckless behavior. Many men have become promiscuous or use a substance rather than just saying, hey, I need a hug. I'm feeling sad or I'm feeling down. Or I don't know what's going on for me. I do a lot of reeducating. I got a lot of athletes basketball, football who don't know what depression is. They think I've had so many different dominant, physically athletes saying, oh, that's for cheerleaders. I had seven tackles. The other day. What do you mean? I put up 20 points the other day. I can't be depressed. That's what cheerleaders. And once I break it down to them like, hey, man, How's your appetite? Are you eating like you normally do? Are you sleeping like you normally do? Any loss of pleasure? Are you interacting with your teammates? Are you easily irritable or distracted? What's going on? So after we break it down to that, we uncover those layers. We get into it and they be like, oh, man, I haven't been. I only ate once the other day or I've been tossing a turn and it's difficult for me to stay asleep or fall asleep. I normally hang with my teammates. I have to practice every day, but I've been distant eyeball, so you might be depressed. Now that we know what it is, let's figure out how to learn from it and build on those tools. So those are some of the things that we do. So it's pretty much re educating. The book is benefiting because a lot of people don't know how to articulate what they are feeling. And this way you can not only write out your answer, but it's a section for you to draw your answer as well, and that's beneficial for the younger generation or the generation that just like to be creative and artistic. I got so many different visuals and narratives that people have been spending. It's been phenomenal. Just a couple who's married 46 years left a review that we said we're 45 years at the time, and this is the most that my husband never opened up to me in the 45 years. And to me that was so grand. And a phenomenal review because I'm 35. You've been married longer than I've been born. And to know that my two has been fitting to your relationship and to have him just uncover and enter things to you is amazing. In the book, I'm talking about affirmation, ghost trauma, grief, mood displacement, abandonment, anger, grief coping, lifestyle, leadership, peer pressure.
So many different conflicting thoughts that men often don't talk about unless they're in the Barber shop or the mechanic shop or the pool hall or playing ball with the boys. But the people who actually need this information aren't normally getting it, which is your partner at home or your children. So for me, that's why I decided to do it. And one of the biggest chapters in here is the chapter on displacement. A lot of people have displacement and don't even know it. So a short example of displacement would be like, let's say you're at work, you're doing everything correct that you think of, but your boss is coming in and he's yelling, telling you to meet deadlines so you can't yell back at your boss because you'll get reprimanded, or you can't confront your supervisor, your fellow coworkers because you probably get a EEO complaint or something like that. But what happened? He goes home when she goes home. And now that innocent partner who's cooking, why are you banging the parts aloud? Why these kids got all these toys in the store like you're displacing that anger to the people who had nothing to do with the real issue. So that displacement chapter has been a phenomenal, too for a lot of different people. I'm hearing based on reviews. I really struggle with that. I think like being frustrated about one thing and then taking it out elsewhere where it's like a safe place. I know that Brandon's not going to walk out on me if I freak out over a small thing. And I sort of grew up with that with that type of frustration in the home. And I've been catching myself, especially over the last year or so, 18 months since being at home with the pandemic, getting really pissy about small things, like a little bit of dirt in the corner or something that's not in its place in the house, getting really angry and frustrated over things that honestly, I don't care about in the big picture. I'm actually frustrated about something else. I'm frustrated because I'm not doing my regular job. I'm frustrated because I'm not out on the road giving my speeches and doing the things that I get energy from and interacting with groups. I'm frustrated because I find Zoom Super tiring, but I'm taking it out, and I'm really displacing that energy. And so I have different strategies for catching myself. I remember someone I worked with telling me that at the end of the day because she used to run a big television network and she had the main job in the house. She would go home, and when she parked her car in her garage, she would stop for a minute and she would remind herself she would do self talk to say, my husband and my child inside that house are not responsible for any of this. The reason I work so hard and do this is because I want to enjoy life with them. So I'm not going to bring that anger home, and she would catch herself for me. It's more about, like starting my day, feeling grateful for everything I have. And I am super just I feel really very lucky in life, but I just have to take a moment to remember that a stupid little thing is maybe it's not stupid, but a silly little thing at 1111, they say, like when it's 1111 on the clock, make a wish. I always stop to make a wish. And there's only ever one thing I wish for, and that really reset where it's like, do I care that the plant isn't water? Do I care that I don't know, like, the toilet paper roll is backward. All things that I get pissy about over for no reason and displace that anger. So those are like, some strategies that I use. Do you have any to add to that. Yeah. So I think when those things happen, too, we got to give ourselves Grace. We have to understand things are not going to be aligned every single time, the way that they need to be. And with that, you have to understand, too, that this other person might be innocent within that situation. They have no idea what transpired at work or what happened at the game or what happened on your way home. So for you to give them the anger or shift that it could be a little bit reckless, because now it can become a situation to where it's conceived. This person is probably fed up and you give them that. So now you're going back and forth. So just be a little bit mindful of how you interact or just be cognizant that you don't know what the other person might have going on. Regardless of your partner or your children, they still have feelings as well. They still should be validated as well and not get some type of anger or resentment or just nagging that somebody else should have got. Yeah. Absolutely. It's interesting because we think about this in terms of just like communication with an intimate relationships, but it affects everyone around us, right? Like all of our loved ones, our friends, our families, our kids, even extended family. I'm sure roommates as well.
So I think this is just such an important piece. I want to quickly touch on coping mechanisms. So you had briefly talked about destructive behavior, and you had mentioned, like, substance abuse. You also mentioned promiscuity. And I just want to quickly remind people that when we talk about having sex with multiple partners or having lots of sex, what we're talking about is behavior that we feel is destructive because some people opt to have multiple partners, and that's perfectly fine. But if you're in a committed relationship and you're cheating and it has to do with displacement or it has to do with, I guess perhaps the lack of ability to talk about what you're feeling, that's what you're talking about when you say an unhealthy coping mechanism, right? Like promiscuity in and of itself can be a really good thing. I think that term has become a bit loaded, but some people can opt to be promiscuous, and that's a great thing. But for other people, it's something that doesn't work for them, but they continue to do it as a lashing out behavior. Is that correct? Correct. When it's more of a defense mechanism or something that causes your detriment opposed to something that's because you can communicate with your partner or partners that hey, I'm not going to be monogamous that's between you. But if it's man, I'm just pissed off, I need to sleep with somebody as a way to feel better about a certain situation. Those things are detrimental. Like, even in the sense of I had a long day. I'm just so upset this happened. I'm mad. You go drink five shots. Those things can be a detriment. So the same thing with being promiscuous, it's okay. It's translated between your partners to do those things. But if it's a coping mechanism to ease the pain or the burden, those things can be harmful. Right? And so is the outcome positive for you or negative for you? I think that's the big question with any behavior, because almost no behavior is inherently good or bad. So I just want to delineate that because we're always talking about sex on the program. And if we talk about consensual, non monogamy and ethical non monogamy and how you can be obstinate and be sexually healthy and how you can have many, many partners and be just as sexually healthy and everything in between before I let you go, I want to just change gears quickly here. First and foremost, I looked at your post folks. You should be following along for sure online, meant to heal, but you posted about not waiting till someone is dead to give them flowers. What you wrote was, don't wait for the eulogy to praise your brother. Tell them now express that love, express that love and hug him if he's in proximity. How do we push ourselves over the hump when we're not used to expressing ourselves? So with Brandon, I'm Super expressive. I can say very much how I feel, but I'm a walls person. I don't easily let people in. So with other people in my life, I struggle to say how I feel, and I'm quite avoidant of intimate conversations like, you see that, right? Yeah. I definitely see that. And I also think this really resonates with me. I can't think of the last time where I said to one of my friends or somebody, another man in my life. Hey, man, I really appreciate you. I love you. I love what you stand for and all these sorts of things, and I think them and I feel them, but I just don't say them. So sometimes it's just that awkwardness where I need to push myself to do it, knowing that I need to say it. But how do you do it? So you already recognize, too, that they're already doing these things and you want to say you just didn't do it.
So I think the implementation part is something that you might got to work on, and that can be underlined in other areas of your life as well. So that might can be something that you challenge yourself to do. But I know for me I'm overly expressive with my circle of guys, like, before we hang up the phone, we tell each other, I love you, bro. I appreciate you. And just to make sure, because one, we don't know the last time or if that's the last conversation, and then two, they need to know those things. I don't know if he likes you just said they should know, but do they know are you probably the only person that's going to tell them. What if everybody else is thinking like, oh, they know I love them, and they're not getting those accolades from different people. And we don't know how much sensation or benefit it will help somebody else to hear those things. I said that quote, probably at a conference I think was maybe 120 or so males. And that's why I said that, because I know for sure at least 50% of the males in the audience definitely don't do it. And after that, I said that at the end of the speech, a lot of them came up to me like, oh, man, listen, one. I don't really hear it all the time from not even just men, but other women. I haven't been told I'm loved or been praised a long time. So again, you don't know what that'll do to somebody that somebody might need, that that can be enhanced for them to keep going. So for me, that's why I make it a statement to say that. And then the eulogy piece. Just think about every eulogy in the movie or that you've ever seen or read it always say, oh, man, like everybody always had a positive thing to say. But when he or she was alive, you didn't really tell that person. So I think don't wait until my eulogy to tell me, let me know how you feel. So I think that was the purpose of it because at those eulogies or those traumatic moments or somebody move away or you don't talk to them as often. You realize, like, oh, man, this person made an impact, or I should have told them then no, tell them now in proximity, text them, call them, hug them. Texting is for me. Like, I feel a lot more comfortable saying how I feel over text versus verbally. So that's going to be my challenge to myself. And hopefully a challenge to everyone out there, to somebody that you don't normally express your love and appreciation for. Do it today. Do it right now. I also really like the language of I appreciate you. I hear that a lot from people, and I feel a lot more comfortable saying that. Then I love you. So it's like baby steps, right? Like, we get there definitely do what's best for you and your situation and for the people around you in that relationship, because like you said, you got personal boundaries and walls that you probably have to uncover, which is a good thing you understand them and you enforce your boundaries because everybody has them. They just tend not to enforce them at times. But I definitely think it would be beneficial for somebody to hear it again. Hey, I appreciate you. And they probably look at it different, like somebody's probably been like, oh, Dr. Jessenka, tell me that, or she thinks I know that she's doing a good job or vice versa. But to hear Dr. Jess said she appreciated me that might change somebody life regardless of what they're doing for you, even if it is their job or they get paid or whatever. It could make a difference in somebody's life, especially during this time of year. A lot of people dealing with grief and trauma and just different moods because of the holidays. So to hear some small from somebody else, it can be so big. The impact coming from different people, not even knowing or just to be noticed. A lot of people don't even feel that they're noticed in this world and they continue to go so it can be uplifting. It can be life changing. I just want to make my stamp and make sure that I let people know. Like, hey, I appreciate you. I see you keep up the good work, just different stuff to enhance the relationship, not only for me and the person, but for that person, for themselves. They can affirm them. They can build their self esteem, that can increase our confidence. They can do a lot of different things for them. So that's why I ensure that I do it. Yeah. That's a great motivation. I always think about that on the street. Like just acknowledging people because in Toronto, nobody says Hello. I think especially people who, like in Toronto, are on house. They don't even get acknowledged. I always think it's so important to stop and say Hello. And it's weird how I'm more comfortable affirming strangers and people close to me. So I got to go look into some really great insights from you today.
Thank you so much. Before you go, you also have a board game called Cheesy. Dates tell people where they can find that and what they're going to get out of that because people are always looking for date ideas. So Cheesy Dates is a board game that I created. So I started doing, like, my fiance. We get married in March. Oh, Congrats. Yeah. Thank you. The dates that we do are a lot of people deem Cheesy because like I said, dates don't have to be expensive. They just have to be thoughtful. Considerate. So we'll do eating in the park or walks or, like, little tedious things, like going to light shows, going to see gardens and plants and stuff. But a lot of people feel like you're supposed to spend all this money or do extravagant stuff which you don't. So I created a board game. You roll the dice. It's two sets of cards. One set of cards is the different date ideas that you guys can do together. And then the other set of cards is based on tough questions that you should act in a relationship, pre relationship or even while you're married in a relationship. And some of those questions are, how do you handle conflict? How do you think I handle conflict? What are your social view? There's so many different tough questions that people normally don't ask or have reservations about asking their partner. So it's a good way to interact with you in your relationship or your group of friends or whatever. It's so benefiting for you guys to do that. It's so many different top questions that I think people should want to know. Even if it's a question of you want to explore adding somebody to your bedroom, like, how do you ask your partner that without them being offended or upset or thinking that you've had this fantasy or want to do it? Explore. So you pick the card. That might be the question. So now it's a fun, engaging way opposed to you just trying to explore it. And then, of course, the date ideas is just because men often don't become spontaneous. I thought, wow, yeah, me neither. I mean, I have no creativity. I love it. So it's called Cheesy Dates. You also are the founder of Mental Heal. Folks, follow along. We'll be putting all that info in the show notes. And the author of Man, just Express Yourself, available on Amazon. James Harris, thanks so much for joining us. Really appreciate your perspective. I appreciate you for sending the invitation. I definitely highly recommend you continue to do what you're doing. A lot of people are learning and growing from this. And the easiest way to find me and all my tools is my website, www. M-E-N-T-O-H-E-A-L. Com mentorha. Com. And from there, of course, you can order the book. Subscribe to my YouTube. Order the game order merch social media is there as well. Email me if you have questions or something. You want to know if I don't have the answer, I definitely get it. And it's also a resource link on my page as well on my website. Awesome. Thank you so much. I appreciate you. And thank you for listening. If you are shopping, check out Tse CA and use Code Doctor Jess, 25 to save pretty good discount on some fabulous toys. Wherever you're at. Folks have a great one. And I want to add wherever you're at folks and the men and women in my life that know me well, I love you. I appreciate you taking a page out of James Help books and his session today. Yeah, that's such a good point. Actually, I have to say, I really do appreciate folks tuning in because it feels I don't know. This feels like a really vulnerable, I guess, process or project to be sharing. So for folks who decide to spend all this time with us week after week, that's pretty cool. So thank you so much. Sure. Definitely.
You're listening to the Sex With Dr. Jess podcast. Improve your Sex Life improve your life.