June 24, 2019
Sexuality Superheroes: Dr. Megan Stubbs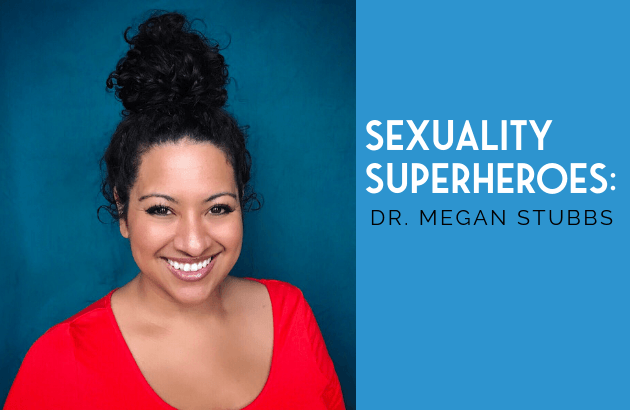 We have a new Sexuality Superhero this week! Meet Dr. Megan Stubbs. As a sexologist, Megan often talks about the relationship between science and sex. She is a speaker, appears frequently on radio and television programming, and writes for many well-known media outlets and publications. Check out her feature below!
How did you find yourself working in sexuality?
I think it was my destiny to become a sexologist. I was always that friend you went to growing up to ask about 'sex stuff'. Of course, growing up when I did, a sexologist was never a job that you saw on career day. I had a keen aptitude for the sciences, biology in particular, so I thought 'Ok, let's go to school to become a medical doctor.' During undergrad I did really well in my biology courses, but realized that chemistry and I were not compatible haha. I dropped my pre-med emphasis and just wanted to get out alive with my general biology degree. All the while I was still that friend you went to for sex advice. We had graduated to blow job tips with pencils at the back lab table. It wasn't until I was consciously reading a Cosmo article and saw the word 'sexologist'. I was like, is that a real thing? Sure enough it was! So fast forward, I went to one of the few graduate schools in the country at the time that offered graduate degrees in human sexuality. And now I'm able to combine two of my favorite things, science and sex, into a cohesive platform to impact my audience.
What is the best part of the job?
Swimming in sex toys constantly! But really, it's helping people feel better about their bodies and what they do with them. My work has evolved into incorporating body image as well, because if you don't feel good in the skin you live in, chances are that it's impacting your sexual life. So I love it when I can help people feel better about themselves and their desires. Also, watching people's reactions when they ask what I do for a living ranks pretty high up there as well.
What is the most challenging part of the job?
It's challenging to provide education around sexuality when there is still such a stigma in society around it. I never try to present my education as an in-your-face kind of delivery. I want to be mindful of the beliefs that community members have, but that doesn't mean that I will change the accuracy or factual nature around sexuality. I'm here to normalize the conversation so that people can make informed decisions for themselves.
What is your most important piece of advice that has the potential to revolutionize relationships?
COMMUNICATION. Honestly. It's what 95% of any of the questions I get asked always boil down to. People who don't ask for what they want, don't often get what they want. People are afraid to speak up and ask for what they want for fear of the response. It's not a sustainable way to lead a relationship. Thats how resentments are built and can lead to blow-ups. Just talk to your partner.
What do you do to decompress and take care of yourself given that you spend so much time helping and caring for others?
I love to be in the kitchen. Cooking is my zen zone. When the warmer month's arrive, you can find me outside in my garden, #GardenHo. And my most favorite way to decompress is to spend time with my rescue dogs. You can't truly have a bad day with a dog by your side. I also love to go to the beach with them and just enjoy the waves. And if all else fails, an orgasm.
What do you want people to know about your work as a sex-positive sexologist?
Yes my life is fun because I get to talk about sex all day, learn about the newest toys on the market, and get to travel for speaking and events, but at the end of the day, I take this job very seriously. Sex and sexuality are constantly under scrutiny in society and I want people to know that education around sexuality is important. We just have to look at media outlets to see that there is still so much work to be done. As a woman of color, I am mindful of inclusion and bring a sensitivity to ethnic diversity rooted in my own complex heritage.
Where can we learn more about your work?
You can find my work at sexologistmegan.com and on Instagram @SexologistMegan!