April 25, 2017
Dr. Jess' Canadian Tour…Eh!
Dr. Jess kicked off 2017 with a bang, spreading her sexual knowledge across the Great White North from Toronto to Halifax to Montreal and Winnipeg.
Along with the We-Vibe team, she spoke at The Everything to do With Sex Show in Halifax and  Le Salon de l'Amour et de la Séduction in Montreal. Delivering 14 speeches and to audiences totalling over 5000 guests, Jess never failed to impress!
Not only did she teach her audiences the handjob to end all blowjobs, but she sold out of her latest book, The New Sex Bible at her book signing sessions and the debut of her webinars, Drive Him/Her Wild With Pleasure, were met with warm Canadian enthusiasm. How else do you expect us to stay warm during the long Canadian winters? Check out a few photos below and press clips below.
In early March, Dr. Jess made a short trip to Winnipeg to speak at McNally Robinson with the University of Manitoba's Centre for Professional and Applied Ethics. Along with her good pal (and leading sex therapist) Dr. Markie Twist, the pair discussed challenges and strategies for delivering  inclusive and effective sexual health education programs in Canada and the United States.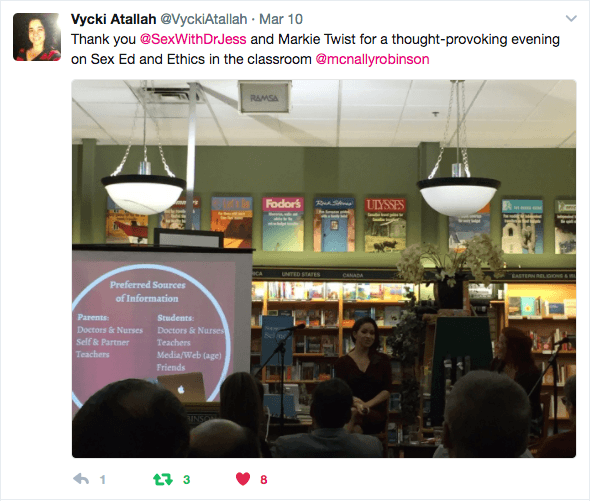 Jess also visited AM680 CJOB and Global Winnipeg to discuss the state of classroom-based sex education with the lovely, Shannon Cuciz. See her appearance in the video below.
During their visit, Dr. Jess and Dr. Markie also took to Facebook Live to chat about open relationships. Check out the video below.
Open Relationships Q&A with Markie Louise! 💕💕❤️❤️

Posted by Dr. Jess Sexologist on Thursday, March 9, 2017